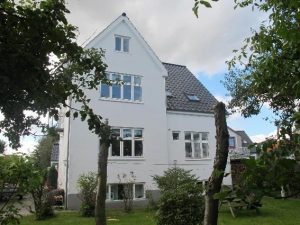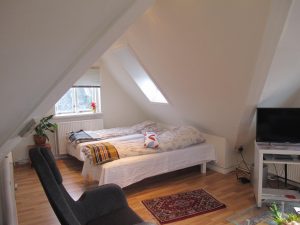 Guesthouse Sharon Aarhus, Bed and Breakfast
Guesthouse Sharon is situated in the northern part of Aarhus in a lovely house on a private and cousy street.
The place is central, just 300 meters from The University of Aarhus and only 2 kilometer to the center of Aarhus. An important road "Randersvej" is only 200 meter away. With many bus lines and the city LetBane (Metro) railway with connection to the center of Aarhus and The hospital Skejby. You can also rent a bike from us. Only 700 meters away lays Risskov forrest a nice recreativ area and a beach called the Permanent with a restaurant. The old harbor with sailships etc. is also very near.

We do have single and double rooms.
With toilet and bath and a big kitchen, where you can prepare your own food. There are free coffee and tee for you.
All rooms do have luxury beds.
The livingroom is cosy with "old style" and have crystal lamps.
At our Guesthouse Sharon you have Self service – that means that you do reserve your own room from our webpage. We do not use keys in the house. You will recieve a code when booking a room, to enter our place. So No lost Keys!
What is included in the price?
Alle beds are with linnen that can be used by people with allergy.
There is one towel for each person in the room.
There is a TV with cable connection on all rooms.
Toilet and acces to a bathroom.
Free coffee and tea in the kitchen
Make your own food in the kitchen.
You can use the TV and livingroom as you like.
We do have a terrace, that can be used to drinks and food in good weather.
There is free access to Wifi in the house.

Facilities
free parking
Family friendly
House are in more levels – with NO elevator!
No key – you recieve a code for the dors.
Good shopping possibel within short distance.
You can book the whole house only for you – if you need more space.

Our Roules
No smoking
No pets allowed
No party with loud music
Do respekt your neigbours
Check in from 14 o'clock
Check out latest at 11 o'clock
Room from 500 dkr pr Night for one person. See detailes here:
Price for each room:
| Room number | Price for 1 person | Price for 2 person | Price for 3 person | Price for 4 person |
| --- | --- | --- | --- | --- |
| Room 1 | 600 dkr. | 850 dkr. | 950 dkr. | 1.050 dkr. |
| Room 2 | 600 dkr. | 850 dkr. | 900 dkr. | |
| Room 3 | 550 dkr. | 750 dkr. | | |
| Room 4 | 700 dkr. | 900 dkr. | 1.000 dkr. | 1.100 dkr. |
| Room 5 | 500 dkr. | | | |
| | | | | |
---
See more information here: